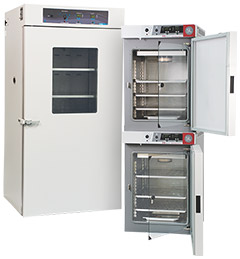 SHEL LAB incubator products are diverse, allowing researchers to find a unit that serves their unique needs. This is why our customers range through nearly every industry, from industrial manufacturers to medical research facilities. Our unique improvements to incubators make them stand apart in terms of atmospheric control and uniformity.
SHEL LAB's CO2 Incubators serve a wide range of bacterial and cell growth applications using innovative technology to ensure uniform temperature and humidity levels within small error margins.
Designed for simplicity and durability, SHEL LAB Microbiological Incubators withstand constant use without losing atmospheric control. Ideal for growth and storage of microbial cultures, cell cultures and general purposes, our Microbiological Incubators provide reliable testing conditions across the board.
Our refrigerated incubators excel at biological oxygen demand (BOD) applications. We also offer models for more specific applications, like our day/night illumination and temperature cycling Drosophila chambers.