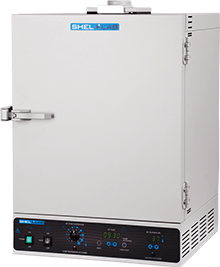 Our incubators serve a wide variety of functions and provide a range of services to laboratories from self-sterilizing chambers to rigidly controlled refrigerated units.
SHEL LAB's catalog of ovens meets the need of nearly any laboratory. The major types of ovens offered include vacuum, forced-air, gravity convection, and durable high-performance units.
Laboratory water baths are excellent at maintaining steady temperatures due to water's high specific heat. SHEL LAB offers various bath sizes, depths, and capabilities to serve a varied spectrum of applications.
Various extra accessories and parts are available to increase equipment capabilities, improve drying methods, or replace old parts.